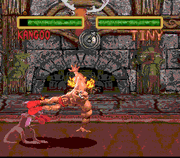 The
Clay keep
is a stage used by
Tiny
in
C2: Judgement Clay
. It is also used by
Butch
. There are poles with faces on them and a deer head that moves. Nothing having to do with him being a wrestler, though, it could be a royal restling ring or medival wrestling ring. The heads on the poles resemble Baleog and Erik from another Interplay game
The lost vikings
. The clock in this stage is some sort of shield or dial. It's said that this stage was originally going to belong to
Ickybod Clay
, which could explain alot, for being spooky with the heads that move...spooky!
Ad blocker interference detected!
Wikia is a free-to-use site that makes money from advertising. We have a modified experience for viewers using ad blockers

Wikia is not accessible if you've made further modifications. Remove the custom ad blocker rule(s) and the page will load as expected.