ClayFighter: Call of Putty is a vaporware game for the Nintendo DSi / Wii. and the long-awaited return of the ClayFighter series. It is an updated version of ClayFighter: Sculptor's Cut, which characters and animations from that game are intact. It was supposed to include a story mode, a training mode, and multiplayer mode where up to two players can fight, and Claytalities. The game's intended release year was in 2011 for the Nintendo DSi and the Nintendo Wii, however it was never released for either. Additionally, both consoles were retired for the Nintendo 3DS and Nintendo Wii-U. With no official word of the fate of the project, it has been assumed to be canceled, which it was.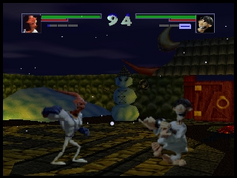 Characters
Edit
Ad blocker interference detected!
Wikia is a free-to-use site that makes money from advertising. We have a modified experience for viewers using ad blockers

Wikia is not accessible if you've made further modifications. Remove the custom ad blocker rule(s) and the page will load as expected.