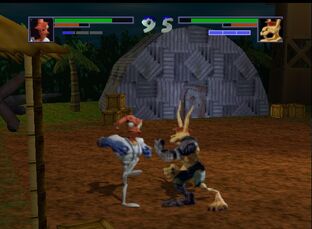 Camp Claynaveral is a stage from
ClayFighter 63⅓
and
ClayFighter: Sculptor's Cut
.
Camp Claynaveral is an abondoned airfield containing a large hanger and an outhouse which doubles as a shed and harbors a lot of junk around the premise. This is T-Hoppy's home stage and the music that plays in this arena also plays in the Hanger and the Outhouse.
This arena was originally known as Camp Liberty during development.
Ad blocker interference detected!
Wikia is a free-to-use site that makes money from advertising. We have a modified experience for viewers using ad blockers

Wikia is not accessible if you've made further modifications. Remove the custom ad blocker rule(s) and the page will load as expected.