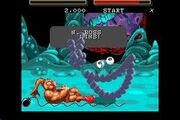 A Boss is a character that is battled near the end is often not playable.
ClayFighter
Edit
Near the end, N. Boss is battled, his name being a jab at Street Fighter's M. Bison. He is known for being very hard. The only way to play as him is through a glitch.
C2: Judgement Clay
Edit
Each character has their own boss, mostly clones.
Clayfighter 63 1/3
Edit
Each character has another character as their rival.
Ad blocker interference detected!
Wikia is a free-to-use site that makes money from advertising. We have a modified experience for viewers using ad blockers

Wikia is not accessible if you've made further modifications. Remove the custom ad blocker rule(s) and the page will load as expected.